NAPP – Photoshop User Special Bonus Issue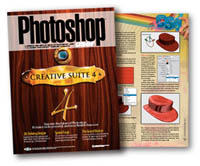 If you're a National Association of Photoshop Professionals (NAPP) member along with your next issue of Photoshop User magazine, you'll be also receiving a special free bonus "All CS4? issue of the magazine. Each time Adobe comes out with a new version, NAPP / Photoshop User produces a special bonus issue for members. There are lots of other benefits to being a member. Check out NAPP here.
Seen it? Like it? Comment here!