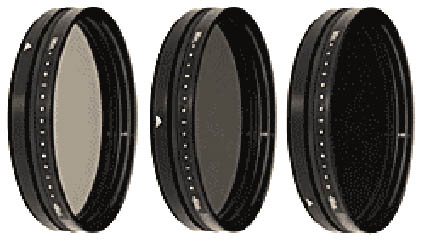 Because it offers so many more options, digital imaging may change the way you use your tools.
For instance, I use only 3 filters – a circular polarizer, a neutral density filter, and a infrared filter.
No other filter is as useful to me as a polarizer. Polarizers remove glare making colors more saturated and reflections allowing you to reduce or remove images on the surface of reflective surfaces. No software filter can do this. I use Canon's circular polarizer. Whenever possible, I prefer to match filters to the manufacturer of the lens,
I've been experimenting with long exposures. Singh Ray makes a unique neutral density filter – the Vari-ND filter. Rotate it and you can slow reduce light between 2 and 8 stops. This eliminates the need to carry multiple filters and to stack them during exposure. It's fantastic. (As an aside, I prefer all graduated filtration to be done with software because you can control both the effect and the graduation precisely.)
For infrared imagery I use an infrared filter. It's not exactly the same as converting a camera to infrared, but it's closer than simulating IR effects with software and it's doesn't permanently change your camera. I prefer to carry as little equipment as possible, move freely, and take long walks. Because I prefer to keep my options open, many times I will shoot in full color and use software to create an IR effect. If you take both a full color and IR filtered exposure of the same subject you have many more options.
I demonstrate these kinds of techniques in all of my field workshops.
See more of the products I use here.
Check out my full Review on the Singh Ray Vari-ND filter here.
Get Insights free here, for upcoming alerts of new Reviews.
Read about essential camera tests techniques here.
Check out my field workshops here.
Get a 20% discount on my Iceland (8/18-22) workshop here – expires 8/10.
Get a 15% discount on my Fall Foliage (10/17-20) workshop here – until 8/17.
The first 5 Insights Members get $1000 off South America (2/2-14/09), thereafter $250.