Preview My R/Evolution DVD Series Online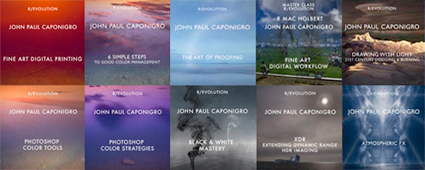 You can view over 30 minutes of online training free on my website.
Watch these excerpts from my R/Evolution DVD series.
6 Simple Steps to Good Color Management
The Art of Proofing
Photoshop Color Tools
Photoshop Color Strategies
Black & White Mastery
Drawing With Light – 21st Century Dodging & Burning
Atmospheric FX
Stay tuned for more from my 3 new DVDs,
Fine Art Digital Printing
Fine Art Workflow
Extending Dynamic Range – HDR. Imaging
Learn more in my R/Evolution DVD series.
Learn more proofing techniques in my Fine Art Digital Printing Workshops.