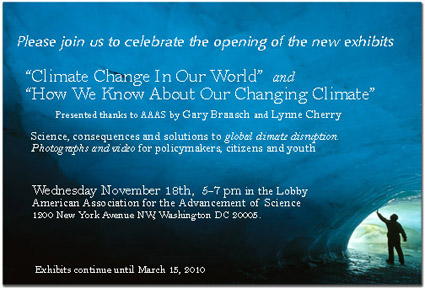 Gary Braasch's large-scale color photographs from the book  "Earth Under Fire: How Global Warming is Changing the World"  ( a book called "essential reading for every citizen" by Al Gore ) are currently on exhibit.
A companion exhibit for kids, parents and school groups, "How We Know About Our Changing Climate" will highlight how scientists study climate change and how youth can learn to be citizen scientists. Includes kids taking action, in the films "Young Voices on Climate Change," produced by Lynne Cherry
The opening is tonight November 18.
The exhibit runs from November 12 – March 15, weekdays 8-5 at …
American Association for the Advancement of Science
1200 New York Avenue NW
Washington DC 20005
Find a preview and and the book here.
Read Gary Braasch's insights on global warming here.