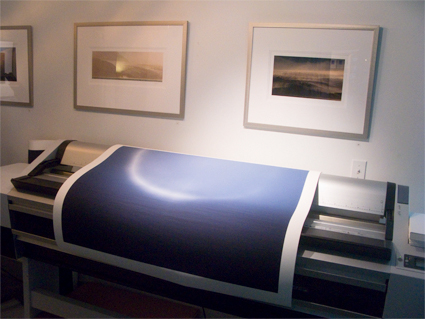 We've been finishing the last prints for my annual open studio exhibit where I unveil New Work from 2008 for the first time. We ran into subtle banding in a few prints. So how do we trouble shoot it?
First check the file at 100% screen magnification. If it's in the file add a touch of noise. If you need to use more noise than you'd like, use Noiseware afterwards.
Second check the printer. Is the data transfer fast enough? (Don't perform other calculation intensive operations while printing. Close other programs if necessary. Make sure your cable connection isn't too slow or too long.) Are the heads aligned? Are you sure it's banding and not nozzle clog? (Nozzle clogs are tiny light lines. Banding is dark lines, often thick with soft edges.) Are you printing at high speed? (Try printing it slower.)
Third, as a last resort, rotate the image 90 degrees and try printing it again. Huh? Right! Many of my files are particularly difficult to print – semi-neutral fields with very smooth gradations. These types of images display incompatibilities with printer drivers and their screening frequencies that just don't happen in most images. It has to do with screening frequencies. Why does rotation help? I don't have an explanation for it. But it works.
Hopefully all of this will help you with your prints.
Get information on my Annual Exhibit here.
Check my blog for the most up to date information on the event.
Check out my blog during the event to see video of my new installation events.
Check out my Gallery to see more images.
Check out my Gallery during and after the exhibit to see new images.
Check out my workshops series The Fine Digital Print here.