Coblogging Photoshop World XVII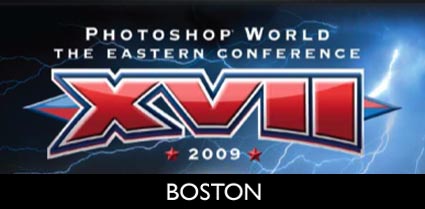 Precons at Photoshop World XVII start today.
We're coblogging again. Presenters will try and make one post a day of a highlight.
I haven't even started my Epson Print Academy Precon (today from 1-5 with Rodney and Schewe) yet and I've had a highlight. RC Concepcion, Matt Koslowski, Corey Barker and I were discussing shooting for HDR for their demo during their Precon session. RC had scouted locations and remarked that crowds might be a problem. So I offered an idea. Shoot 3 shots for each bracketed exposure (three each for low, medium and high). First merge the moving people out. Then use the remaining three merges for the HDR merge. This stuff gets you thinking – in new ways. I love it! I'll be do this in my workshop in Palms Springs next week. Someone will let you know how it goes. When they do you'll find a link here.
You can see what other presenters share each day by accessing these links.
Here's a list of everyone who coblogged last year. Check back for more links each day.
Corey Barker
John Paul Caponigro
RC Concepcion
Dave Cross
Jim Divitale
Laurie Excell
Martin Evening
Richard Harrington
Scott Kelby
Matt Koslowski
Deke McClelland
Joe McNally
John Nack
Moose Peterson
Jeff Schewe
Colin Smith
Ben Willmore
David Ziser
Find out more about Photoshop World here.
Check out the Epson Print Academy here.
Check out my Workshops series here.