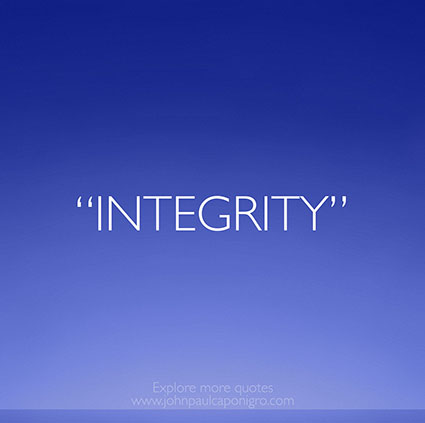 Enjoy this collection of quotes on Integrity.
"Be as you wish to seem." – Socrates
"Integrity is your destiny-it is the light that guides your way." – Plato
"Our character … is an omen of our destiny, and the more integrity we have and keep, the simpler and nobler that destiny is likely to be." – George Santayana
"The soul is dyed the color of its thoughts. Think only on those things that are in line with your principles and can bear the light of day. The content of your character is your choice. Day by day, what you choose, what you think, and what you do is who you become. Your integrity is your destiny … it is the light that guides your way." – Heraclitus
"Living with integrity means…not settling for less than what you know you deserve in your relationships; asking for what you want and need from others; speaking your truth, even though it might create conflict or tension; behaving in ways that are in harmony with your personal values; making choices based on what you believe, and not what others believe." – Barbara De Angelis
"A true leader has the confidence to stand alone, the courage to make tough decisions, and the compassion to listen to the needs of others. He does not set out to be a leader, but becomes one by the equality of his actions and the integrity of his intent." – Douglas MacArthur
"The supreme quality for leadership is unquestionably integrity. Without it, no real success is possible." – Dwight D. Eisenhower
"It is true that integrity alone won't make you a leader, but without integrity you will never be one." – Zig Ziglar
"Integrity without knowledge is weak and useless, and knowledge without integrity is dangerous and dreadful." – Samuel Johnson
"When you are able to maintain your own highest standards of integrity – regardless of what others may do – you are destined for greatness." – Napoleon Hill
"Integrity is the essence of everything successful." – R. Buckminster Fuller
"Character is much easier kept than recovered." – Thomas Paine
"Lead your life so you wouldn't be ashamed to sell the family parrot to the town gossip." – Will Rogers
"Real integrity is doing the right thing, knowing that nobody's going to know whether you did it or not." – Oprah Winfrey
"Integrity is telling myself the truth. And honesty is telling the truth to other people." – Spencer Johnson
"Integrity is conforming reality to our words – in other words, keeping promises and fulfilling expectations." – Stephen Covey
"Integrity is keeping a commitment even after circumstances have changed." – David Jeremiah
"The glue that holds all relationships together … is trust, and trust is based on integrity." – Brian Tracy
"People of integrity and honesty not only practice what they preach, they are what they preach." – David A. Bednar
You can easily judge the character of a man by how he treats those who can do nothing for him.
Johann Wolfgang von Goethe
"Integrity gives you real freedom because you have nothing to fear since you have nothing to hide." – Zig Ziglar
"If you don't stand for something you will fall for anything." – Malcolm X
"Each person must live their life as a model for others." – Rosa Parks
"Integrity can be neither lost nor concealed nor faked nor quenched nor artificially come by nor outlived, nor, I believe, in the long run, denied." – Eudora Welty
"I am not bound to win, but I am bound to be true. I am not bound to succeed, but I am bound to live up to what light I have." – Abraham Lincoln
"It is curious that physical courage should be so common in the world and moral courage so rare." – Mark Twain
"In any area of our lives where we fail to act from integrity or violate our own understanding of what is right or wrong for us, we fall prey to putting the outside world's needs before our own. We then disconnect from the enormity of our power and our ability to create what we want." – Debbie Ford
"The strongest thing that any human being has going is their own integrity and their own heart. As soon as you start veering away from that, the solidity that you need in order to be able to stand up for what you believe in and deliver what's really inside, it's just not going to be there." – Herbie Hancock
"Losers make promises they often break. Winners make commitments they always keep." – Denis Waitley
"Laws control the lesser man… Right conduct controls the greater one." – Mark Twain
"Truth allows you to live with integrity. Everything you do and say shows the world who you really are. Let it be the Truth." – Oprah Winfrey
"If it is not right do not do it; if it is not true do not say it." – Marcus Aurelius
"Waste no more time arguing about what a good man should be. Be one." – Marcus Aurelius
"The time is always right to do what is right." – Martin Luther King, Jr.
"One person of integrity can make a difference." – Elie Wiesel
"On personal integrity hangs humanity's fate" – R. Buckminster Fuller
"If humanity does not opt for integrity we are through completely. It is absolutely touch and go. Each one of us could make the difference." – R. Buckminster Fuller
"If everyone were clothed with integrity, if every heart were just, frank, kindly, the other virtues would be well-nigh useless.' – Moliere
"Happiness is when what you think, what you say, and what you do are in harmony." – Mahatma Gandhi
"If you have integrity, nothing else matters. If you don't have integrity, nothing else matters." – Alan K. Simpson
Explore The Essential Collection Of Creativity Quotes here.
View The Essential Collection Of Creativity Videos here.
Discover more quotes in my social networks.