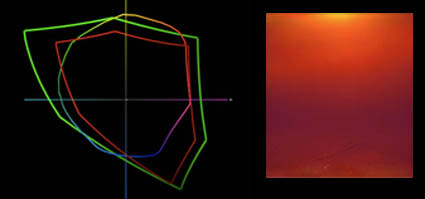 You softproof (constrain a monitor with an ICC profile) to see what colors are out of gamut of an ink and paper combination before you print. You proof (print) to see colors out of gamut of the monitor.
What? Yes! Today's inksets exceed the gamut of of even the widest gamut monitors, in certain colors.
This graph shows ColorMatch (equivalent to most CRTs and LCDs), Adobe RGB 1998 (higher end LCDs), and Epson Ultrachrome HDR Ink on Epson Exhibition Fiber Paper. The new printers with the latest substrates can print more saturated yellows and oranges than even the best monitors can display. And, they can also print more saturated blues and greens than average LCDs can display. Evolution in printers is forcing an evolution in monitors.
Which monitor do I recommend? Check out my previous post here.
Check out my DVD 6 Simple Steps to Good Color Management.
Check out my DVD The Art of Proofing.
See me demonstrate this and more during the Epson Print Academy.
Learn these techniques in my workshops.