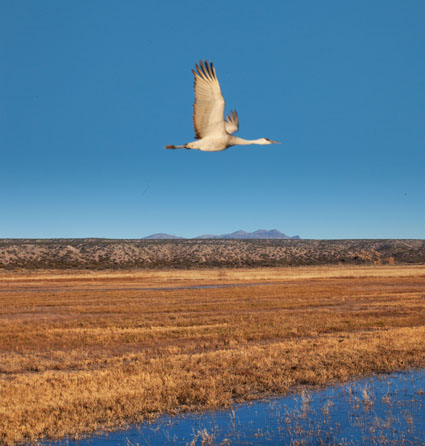 Whenever you can, spend a little extra time before and/or after a workshop (or any business trip for that matter). You go to great places. You always want more time. You might want to see a location again. Or you might want to see a nearby location that you didn't get to. Stimulating as groups can be, sometimes you want to work alone and at your own pace. There are so many reasons to spend a little extra time.
On the way back from my White Sands, New Mexico workshop my wife and I visited the Bosque Del Apache bird sanctuary. Every year this marsh is filled with Sand Hill Cranes, Snow Geese and countless other birds. They fill the sky at dawn. The sound of the waking birds is wonderful.
As you can tell, I'm no Arthur Morris (one of the world's premiere bird photographers). I hear he was at the Bosque at the same time I was.
Find out about my 2010 White Sands Workshop here.
Find out about my Illuminating Creativity field workshops here.